Answer
Pinworm infection, also called enterobiasis, is caused by Enterobius vermicularis. E vermicularis is a white slender nematode with a pointed tail. In humans, they reside in the cecum, appendix, and ascending colon. Female pinworms are 8-13 mm long, and males are 2-5 mm long.
Pinworm infection is primarily a pediatric condition, and parents are typically infected via transmission through their children. Pinworm is prevalent throughout the temperate regions of the world and is the most common helminthic infection in the United States. [1]
Transmission can occur via direct contact with contaminated furniture, bedclothes, bedding, towels, toilets, doorknobs, or other objects. The parasite can also be transmitted during sexual contact.
Pinworm infection is generally asymptomatic; asymptomatic carriers are common.
The cure rate with treatment is 90-95%. Re-infection is common, especially if all contacts are not treated simultaneously.
See the images of pinworms, below.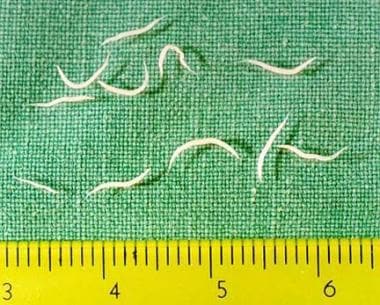 Adult female worms of Enterobius vermicularis collected from a 2-year-old girl in a Korean orphanage after treatment with pyrantel pamoate 10 mg/kg.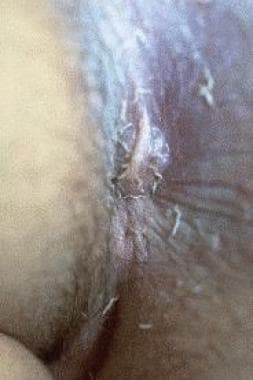 Pinworms in a young patient.
---
Did this answer your question?
Additional feedback? (Optional)
Thank you for your feedback!