Answer
Pasteurella multocida is a small, gram-negative, nonmotile, non–spore-forming coccobacillus with bipolar staining features. The bacteria typically appear as single bacilli on Gram stain; however, pairs and short chains can also be seen. P multocida often exists as a commensal in the upper respiratory tracts of many livestock, poultry, and domestic pet species, especially cats and dogs. In fact, Pasteurella species are some of the most prevalent commensal bacteria present in domestic and wild animals worldwide. [1] P multocida infection in humans is often associated with an animal bite, scratch, or lick, but infection without epidemiologic evidence of animal contact may occur. See the image below.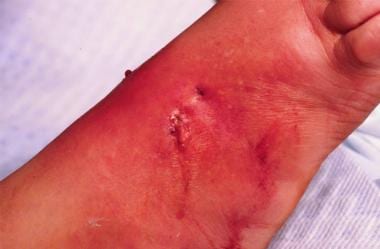 Pasteurella multocida infection.
Wound infections associated with animal bites usually have a polymicrobial etiology, mandating the empiric use of broad-spectrum antimicrobials targeted at both aerobic and anaerobic gram-negative bacteria. Nevertheless, Pasteurella species are commonly isolated pathogens in most animal bites, especially in dog- and cat-related injuries. These injuries can be aggressive, with skin manifestations typically appearing within 24 hours following a bite. These wounds can exhibit a rapidly progressive soft-tissue inflammation that may resemble group A β-hemolytic Streptococcus pyogenes infections.
Deeper soft tissue can also be affected, manifesting as tenosynovitis, septic arthritis, and osteomyelitis. More-severe disseminating infections may also develop, including endocarditis or meningitis, the latter mimicking Haemophilus influenzae or Neisseria meningitides infections in young children. Fortunately, Pasteurella species are fairly sensitive organisms and can be treated with a penicillin-based regimen.
Patients with P multocida infection who present without evidence of an animal bite are more likely to have invasive infection such as respiratory or bloodstream infection. [2]
---
Did this answer your question?
Additional feedback? (Optional)
Thank you for your feedback!