Answer
Debridement of necrotic tissue in combination with medical therapy is mandatory for patient survival. In rhinocerebral disease, surgical care includes drainage of the sinuses and may require excision of the orbital contents and involved brain). Repeated surgery may be required, especially for rhinocerebral mucormycosis.
Excise pulmonary lesions if they are localized to a single lobe, excise cutaneous lesions entirely, and resect any GI masses, for good disease control.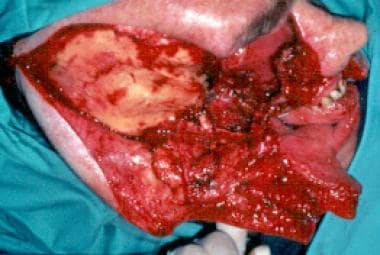 An immunocompetent man who sustained a high-pressure water jet injury, resulting in rhinocerebral mucormycosis. Traumatic inoculation of Apophysomyces elegans was the pathogenetic mechanism. A surgical field of this patient is shown. Excision of the right orbit, maxillary antrum, nasal cavity, sphenoid sinus, and infratemporal fossa has taken place. The tissue was infarcted. Courtesy of A Allworth, MD, Brisbane, Australia.
---
Did this answer your question?
Additional feedback? (Optional)
Thank you for your feedback!