Answer
Rhinocerebral disease may manifest as unilateral, retro-orbital headache, facial pain, numbness, fever, hyposmia, and nasal congestion, which progresses to black discharge. Initially, mucormycosis may mimic bacterial sinusitis. [57, 58]
Late symptoms that indicate invasion of the orbital nerves and vessels include diplopia and visual loss. These late symptoms indicate a poor prognosis and are usually followed by a reduced level of consciousness. Most patients with rhinocerebral disease have diabetes (especially with ketoacidosis) or have malignancies with associated neutropenia and may be receiving broad-spectrum antibiotics.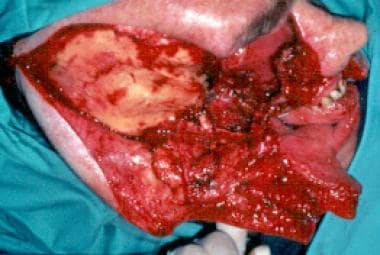 An immunocompetent man who sustained a high-pressure water jet injury, resulting in rhinocerebral mucormycosis. Traumatic inoculation of Apophysomyces elegans was the pathogenetic mechanism. A surgical field of this patient is shown. Excision of the right orbit, maxillary antrum, nasal cavity, sphenoid sinus, and infratemporal fossa has taken place. The tissue was infarcted. Courtesy of A Allworth, MD, Brisbane, Australia.
Orbital swelling and facial cellulitis are progressive. Necrotic eschars with black purulent discharge can be noted in the nasal cavity, on the hard palate, or on the face. Although these lesions suggest mucormycosis, their absence does not exclude the possibility of this disease.
Proptosis, ptosis, chemosis, and ophthalmoplegias indicate retro-orbital extension. Cranial nerves V and VII are the most commonly affected. Loss of vision can occur with retinal artery thrombosis.
A reduced level of consciousness state denotes brain involvement.
---
Did this answer your question?
Additional feedback? (Optional)
Thank you for your feedback!