Answer
Mucormycosis, previously called zygomycosis, refers to several different diseases caused by infection with fungi belonging to the order Mucorales. Rhizopus species are the most causative organisms of this group. In descending order, the other genera with mucormycosis-causing species include Mucor, Cunninghamella, Apophysomyces, Lichtheimia (formerly Absidia), Saksenaea, Rhizomucor, and other species. [1, 2]
Most mucormycosis infections are life-threatening. Risk factors such as diabetic ketoacidosis and neutropenia are present in most cases. Severe sinusitis, complicated by brain abscess, is the most common presentation. Pulmonary, cutaneous, and gastrointestinal (GI) infections are also recognized.
Successful mucormycosis treatment requires correction of the underlying risk factor(s), antifungal therapy (traditionally with a polyene), and aggressive surgery.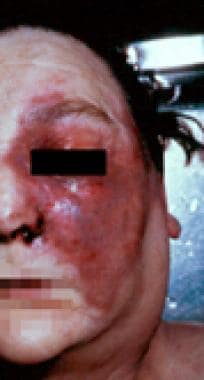 Postmortem photograph of a woman with diabetes and left rhinocerebral mucormycosis complicating ketoacidosis. Rhizopus oryzae was the causative organism. Note the orbital and facial cellulitis and the black nasal discharge. Courtesy of A Allworth, MD, Brisbane, Australia.
See also Pediatric Mucormycosis and Rhinocerebral Mucormycosis.
---
Did this answer your question?
Additional feedback? (Optional)
Thank you for your feedback!