Answer
Campbell-Taylor and colleagues introduced oroesophageal tube feeding in 1988 (see the image below). [63] Patients who refuse nasogastric or gastrostomy tubes can use this method. The patient is taught to insert the 14F urethral tube into the mouth and past the side of the tongue, pushing slowly until the catheter end reaches the lips. Food supplements and liquid are administered by means of a 500-mL syringe at a rate of approximately 50 mL/min.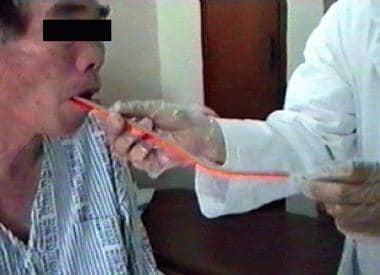 Oroesophageal tube feeding can be used by patients who decline to be enterally fed through a nasogastric or gastrostomy tube.
The absence of a gag reflex indicates the possible need for oroesophageal tube feeding. The patient must be cooperative and alert but need not be completely cognitively intact. This method is relatively contraindicated in patients with a hyperexaggerated gag reflex, esophagitis, Zenker diverticulum, or anteriorly directed cervical osteophytes.
This method has several advantages. First, oroesophageal tube feeding may prevent the harmful effects of continuous NGT feeding. Second, the speed of pouring liquids can be faster than with NGT feedings. Third, oroesophageal tube feeding provides training for facilitating the swallowing reflex.
However, a couple of disadvantages should also be noted. First, performance of this procedure requires skillful technique. Second, the need for frequent manipulation (6 times per day) may be troublesome for the assistant.
---
Did this answer your question?
Additional feedback? (Optional)
Thank you for your feedback!