Answer
The term dysphagia, a Greek word that means disordered eating, typically refers to difficulty in eating as a result of disruption in the swallowing process. Dysphagia can be a serious health threat because of the risk of aspiration pneumonia, malnutrition, dehydration, weight loss, and airway obstruction, and it exerts a large influence on the outcome of rehabilitation (eg, length of hospital stay, mortality/morbidity). [2] (See Prognosis and Treatment.)
Dysphagia can be secondary to defects in any of the 3 phases of swallowing, which are as follows [3] :
Oral phase: Which involves the oral preparatory phase and the oral transit phase
A number of etiologies have been attributed to dysphagia in populations with neurologic and nonneurologic conditions. (See Pathophysiology and Etiology.)
Dysphagia should be differentiated from disorders that prevent transfer of food to the mouth or beyond the stomach but that are not characterized by difficulty swallowing. For example, feeding disorder, which is the inability to get food to the mouth, and gastric outlet obstruction, which is the inability of food to pass from the stomach into the small intestine, are not types of dysphagia. On average, 10 million Americans are evaluated for swallowing disorders annually. (See Epidemiology and DDx.)
Advances have been made in the treatment of swallowing disorders, especially with regard to dysphagia-related malnutrition, and with the available tests and management options for swallowing disorders, the prognosis for patients with dysphagia has improved. (See Prognosis, Clinical Presentation, Workup, and Treatment.)
An understanding of the anatomy and physiology of the areas of the body affected by dysphagia is of paramount importance in the diagnosis and management of swallowing disorders (see the image below). Early involvement of specialists such as nutritionists, gastroenterologists, general surgeons, speech-language therapists, and ear, nose, and throat (ENT) surgeons offers a good prognosis for the management of swallowing disorders. (See Treatment.)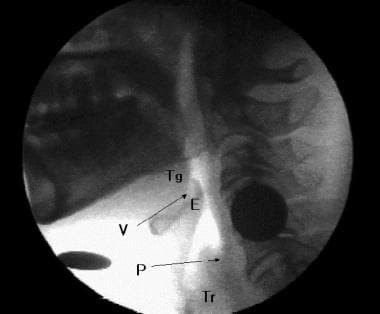 Lateral projection of the videoprint of a videographic swallowing study shows the epiglottis (E), pyriform sinuses (P), tongue (Tg), trachea (Tr), and vallecula (V).
---
Did this answer your question?
Additional feedback? (Optional)
Thank you for your feedback!