Answer
Malaria-causing Plasmodium species metabolize hemoglobin and other RBC proteins to create a toxic pigment called hemozoin. (See the image below.)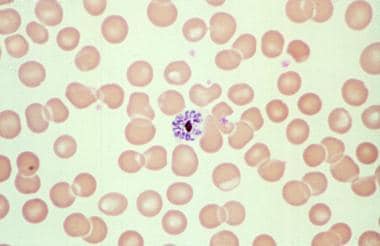 An erythrocyte filled with merozoites, which soon will rupture the cell and attempt to infect other red blood cells. Notice the darkened central portion of the cell; this is hemozoin, or malaria pigment, which is a paracrystalline precipitate formed when heme polymerase reacts with the potentially toxic heme stored within the erythrocyte. When treated with chloroquine, the enzyme heme polymerase is inhibited, leading to the heme-induced demise of non–chloroquine-resistant merozoites.
---
Did this answer your question?
Additional feedback? (Optional)
Thank you for your feedback!