Answer
The vector, the Anopheles species mosquito, transmits plasmodia, which are contained in its saliva, into its host while obtaining a blood meal. Plasmodia enter circulating erythrocytes (red blood cells, or RBCs) and feed on the hemoglobin and other proteins within the cells. One brood of parasites becomes dominant and is responsible for the synchronous nature of the clinical symptoms of malaria. Malaria-carrying female Anopheles species mosquitoes tend to bite only between dusk and dawn.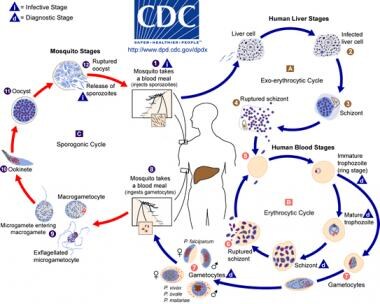 Schema of the life cycle of malaria. Image courtesy of the Centers for Disease Control and Prevention.
The protozoan brood replicates inside the cell and induces RBC cytolysis, causing the release of toxic metabolic byproducts into the bloodstream that the host experiences as flulike symptoms. These symptoms include chills, headache, myalgias, and malaise, and they occur in a cyclic pattern. The parasite may also cause jaundice and anemia due to the lysis of the RBCs. P falciparum, the most malignant of the 5 species of Plasmodium discussed here, may induce renal failure, coma, and death. Malaria-induced death is preventable if the proper treatment is sought and implemented.
P vivax and P ovale may produce a dormant form that persists in the liver of infected individuals and emerges at a later time. Therefore, infection by these species requires treatment to kill any dormant protozoan as well as the actively infecting organisms. This dormant infection is caused by the hypnozoite phase of the life cycle, which involves a quiescent liver phase. (During this phase, the infection is not typically eradicated by normal courses of antimalarials and requires treatment with primaquine to prevent further episodes of disease.)
---
Did this answer your question?
Additional feedback? (Optional)
Thank you for your feedback!