Answer
Malaria is a potentially life-threatening parasitic disease caused by infection with Plasmodium protozoa transmitted by an infective female Anopheles mosquito. Plasmodium falciparum infection carries a poor prognosis with a high mortality if untreated, but it has an excellent prognosis if diagnosed early and treated appropriately. See the image below.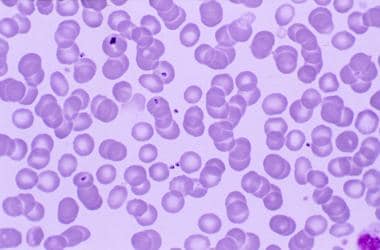 Malarial merozoites in the peripheral blood. Note that several of the merozoites have penetrated the erythrocyte membrane and entered the cell.
See 13 Travel Diseases You Need to Know, a Critical Images slideshow, to help identify and manage infectious travel diseases.
---
Did this answer your question?
Additional feedback? (Optional)
Thank you for your feedback!