Answer
Leptospirosis is an infectious disease of humans and animals that is caused by pathogenic spirochetes of the genus Leptospira. It is considered the most common zoonosis in the world and is associated with settings of poor sanitation and agricultural occupations involving contact with animals or water. Increasingly, adventurous travel and "mud run" sports or races involving fresh water or soil exposure put humans at risk. Affected reservoir species experience chronic colonization of proximal renal tubules and shed leptospires in urine. Humans are not typically considered reservoirs but may chronically shed leptospires and may act as reservoirs in areas of high endemicity and poor waste sanitiation.
Leptospirosis is endemic in most areas where dengue virus is transmitted and may be mistaken for dengue, which is typically more common. Co-infection occurs in up to 8% of cases. Leptospirosis may also co-infect with dengue and other regionally prevalent pathogens, such as malaria, hantavirus, and scrub typhus. Leptospirosis is typically a biphasic pattern of early flu-like, septicemic illness followed by an inflammatory second phase. The latter may be characterized by systemic inflammatory response syndrome (SIRS) or cytokine storm. COVID-19 may follow a similar trajectory and may complicate diagnosis in the subtropics and tropics. These issues may complicate the diagnosis, especially in travelers or migrants presenting to non-endemic areas. It is important to consider leptospirosis when dengue is diagnosed in a severely ill patient, because early antibiotics are beneficial.
Furthermore, as climate change disrupts regional rainfall and temperatures, Leptospirosis should be considered in the setting of potential exposures. Molecular diagnostics and expanding access to these tools may remedy chronic under-detection and under-reporting in affected areas.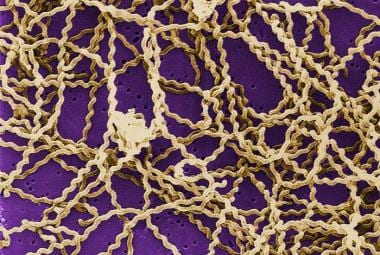 A scanning electron micrograph depicting Leptospira atop a 0.1-µm polycarbonate filter. (This image is in the public domain and thus free of any copyright restrictions. Courtesy of the Centers for Disease Control and Prevention (CDC), Rob Weyant.
---
Did this answer your question?
Additional feedback? (Optional)
Thank you for your feedback!