Answer
Observations of increasing resistance in patients treated for leprosy have been reported in Southeast Asia, notably in Vietnam. [20] Although drug resistance is an ongoing concern, it is difficult to assess in this slow-growing organism. In a study of M leprae strains from South America, few of 230 strains subjected to molecular drug-susceptibility analysis were drug-resistant. Of the 230 strains, 3 were identified as clinically relapsing and were found to be resistant by genetic testing; 2 of the 3 were dapsone-resistant; and 1 was dapsone-resistant and rifampin-resistant using genetic testing for point mutation. [21] The map below shows distribution of rifampicin-resistant leprosy in 2015.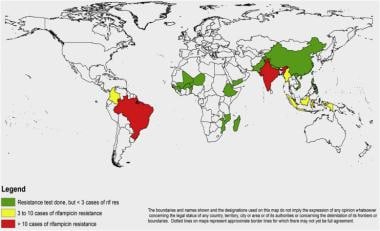 Map of countries reporting rifampicin resistance in leprosy between 2009 and 2015. Courtesy of the WHO.
---
Did this answer your question?
Additional feedback? (Optional)
Thank you for your feedback!