Answer
In response to the increased incidence of dapsone resistance, the WHO introduced a multidrug regimen in 1981 that includes rifampicin, dapsone, and clofazimine. Some clinical studies have also shown that certain quinolones, minocycline, and azithromycin have activity against M leprae. The WHO recently recommended single-dose treatment with rifampin, minocycline, or ofloxacin in patients with paucibacillary leprosy who have a single skin lesion. However, the WHO still recommends the use of the long-term multidrug regimens whenever possible because they have been found to be more efficacious.
Table 1. Multidrug Therapy Plan Recommended by the WHO (Open Table in a new window)
Type of Leprosy

Daily, Self-Administered

Monthly Supervised

Months of Treatment

Paucibacillary

Dapsone 100 mg

Rifampicin 600 mg

6

Single-lesion paucibacillary

Rifampicin 600 mg,

Ofloxacin 400 mg,

Minocycline 100 mg

N/A
Single dose

Multibacillary

Dapsone 100 mg,

Clofazimine 50 mg

Rifampicin 600 mg,

Clofazimine 300 mg

12

Pediatric

Dapsone 2 mg/kg,

Clofazimine 1 mg/kg

Rifampicin 10 mg/kg,

Clofazimine 6 mg/kg

Same as in adults
Also see the chart below: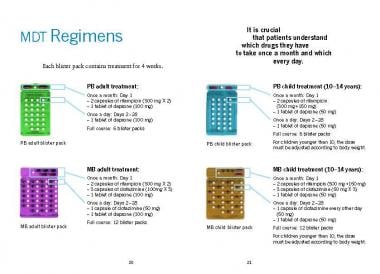 WHO Multidrug Therapy Regimens. Courtesy of WHO, Leprosy Elimination, http://www.who.int/lep/mdt/en/, accessed April 15, 2016.
---
Did this answer your question?
Additional feedback? (Optional)
Thank you for your feedback!