Answer
Findings vary but can include dermatitis, giant cells, infiltration of nerve bundles with mononuclear cells, and granulomas. Lepromatous lesions generally contain numerous acid-fast bacilli and fat-laden macrophages with a paucity of lymphocytes. Histopathology of leprosy is seen in the image below.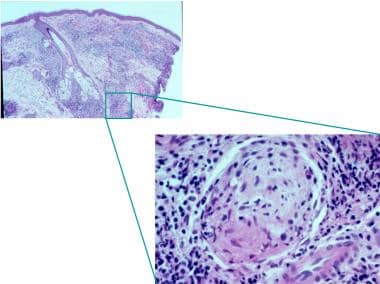 Histopathology of leprosy: Large numbers of acid-fast bacilli (in clusters) in histiocytes and within nerves. Fite-Faraco stain 500 X. Courtesy of Tara Ramachandra, MD, and D. Scott Smith, MD.
In contrast, tuberculoid lesions contain few-to-no acid-fast bacilli but manifest granulomatous changes with epithelial cells and lymphocytes. The immunopathologic spectrum of leprosy has been delineated in the Neurologic Manifestations of Leprosy topic in Medscape Reference's Neurology volume.
---
Did this answer your question?
Additional feedback? (Optional)
Thank you for your feedback!