Answer
This form is characterized by extensive bilaterally symmetric cutaneous involvement, which can include macules, nodules, plaques, or papules. Multiple flat hypopigmented lesions are seen in the image below.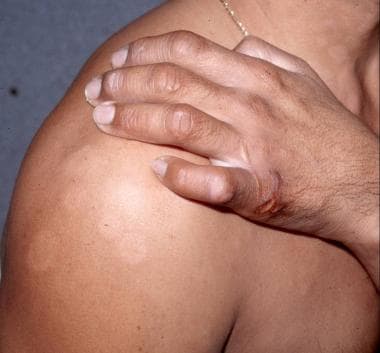 Multiple flat hypopigmented lesions on shoulder and neck, suggestive of multibacillary leprosy. Note ulceration of hypothenar area of hand, indicative of sensory loss with curled 5th digit, from ulnar neuropathy. Redwood City, California, United States. Courtesy of D. Scott Smith, MD.
Unlike lesions in tuberculoid leprosy, those in lepromatous leprosy have poorly defined borders and raised and indurated centers. As in all forms of leprosy, lepromatous lesions are worse on cooler parts of the body. Common areas of involvement include the face, ears, wrists, elbows, buttocks, and knees.
---
Did this answer your question?
Additional feedback? (Optional)
Thank you for your feedback!