Answer
According to WHO figures and as reported by 130 countries, the global annual detection rates have declined from 2004-2010, when 407,791 and 228,474 new cases were reported, respectively (see the images below). The prevalence registered worldwide at the beginning of 2010 was 192,246 cases. Of the new cases, 95% were detected worldwide during 2010 in the following countries: Angola, Bangladesh, Brazil, China, Democratic Republic of the Congo, India, Ethiopia, Indonesia, Madagascar, Mozambique, Myanmar, Nepal, Nigeria, Philippines, Sri Lanka, Sudan, and United Republic of Tanzania. [2] These countries still exhibit pockets of high endemicity.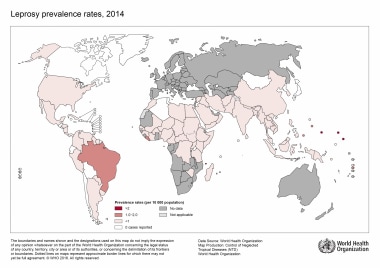 Leprosy prevalence rates, 2014. Courtesy of WHO, Leprosy: Global situation, http://www.who.int/lep/situation/en/, accessed April 28, 2016.
---
Did this answer your question?
Additional feedback? (Optional)
Thank you for your feedback!