Answer
According to WHO figures based on reports from 159 countries, 208,619 new leprosy cases were reported globally in 2018. The worldwide prevalence reported at the end of 2018 was 184,212 cases (rate, 0.2/10,000). In 2018, Brazil, India, and Indonesia accounted for 79.6% of all new leprosy cases. [10] In addition, 23 priority countries accounted for 96% of cases worldwide in 2018.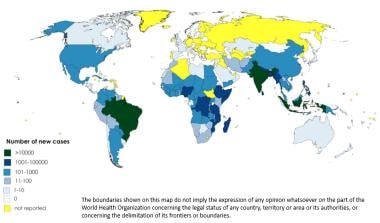 WHO map showing worldwide prevalence of leprosy in 2017. Courtesy of the WHO.
---
Did this answer your question?
Additional feedback? (Optional)
Thank you for your feedback!