Answer
Leprosy is a chronic infection caused by the acid-fast, rod-shaped bacillus Mycobacterium leprae. Leprosy can be considered 2 connected diseases that primarily affect superficial tissues, especially the skin and peripheral nerves. Initially, a mycobacterial infection causes a wide array of cellular immune responses. These immunologic events then elicit the second part of the disease, peripheral neuropathy with potentially long-term consequences.
The social and psychological effects of leprosy, as well as its highly visible debilities and sequelae (as seen in the image below), have resulted in a historical stigma associated with leprosy. To minimize the prejudice against those with leprosy, the condition is also known as Hansen disease, named after G.A. Hansen, who is credited with the 1873 discovery of M leprae. This mycobacterium grows extremely slowly but has been successfully cultured in vitro using Dubos-Lowenstein-Jensen medium and thyroxine sodium. [1]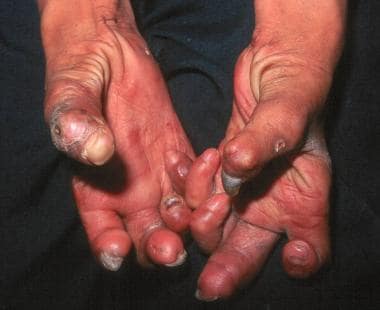 Hands with Z-thumbs, clawing, contractures, and shortening of fingers due to repetitive injury and healing. Ho Chi Minh City, Vietnam. Courtesy of D. Scott Smith, MD.
---
Did this answer your question?
Additional feedback? (Optional)
Thank you for your feedback!