Answer
Specific leishmanial antigens prepared from cultures have been used in a number of tests. Serologic detection of antibodies to recombinant K39 antigen (eg, K39 immunochromatographic test, K39 strip test) [16] (see the following image) using a direct agglutination test (DAT), immunofluorescence assay (IFA), or enzyme-linked immunosorbent assay (ELISA) has been shown to be highly sensitive and specific in diagnosing visceral leishmaniasis and post–kala-azar dermal leishmaniasis. [17] A nitrocellulose dipstick test has also been used with K39 testing.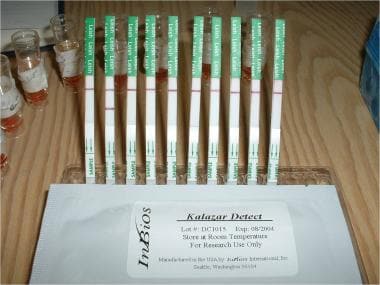 Illustration of one form of the rK39 test for the serologic diagnosis of visceral leishmaniasis. It is an easy, very sensitive, and specific test for visceral disease. In this case, the dipstick second from the left shows a positive result and all the rest show reaction only at the control line.
---
Did this answer your question?
Additional feedback? (Optional)
Thank you for your feedback!