Answer
Definitive diagnosis of visceral disease is made by observing the parasite (more specifically, amastigotes in tissue) on stained Giemsa smears or by observing the culture of bone marrow, splenic, hepatic, or lymph node aspirates (see the following image).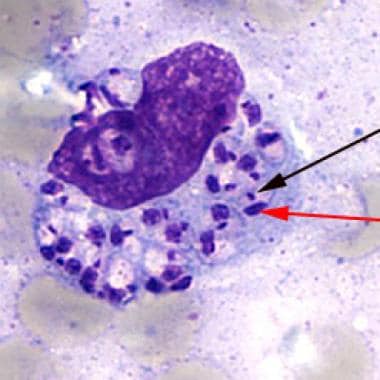 Light-microscopic examination of a stained bone marrow specimen from a patient with visceral leishmaniasis—showing a macrophage (a special type of white blood cell) containing multiple Leishmania amastigotes (the tissue stage of the parasite). Note that each amastigote has a nucleus (red arrow) and a rod-shaped kinetoplast (black arrow). Visualization of the kinetoplast is important for diagnostic purposes, to be confident the patient has leishmaniasis. (Credit: CDC/DPDx) Source: Centers for Disease Control and Prevention. Parasites home: leishmaniasis. Resources for health professionals: http://www.cdc.gov/parasites/leishmaniasis/health_professionals/
---
Did this answer your question?
Additional feedback? (Optional)
Thank you for your feedback!