Answer
Direct visualization of the Leishmania organism is diagnostic, but this can be difficult in tissue sections because of its small size (2-4 mm) and because of subtle distinguishing characteristics on routine hematoxylin and eosin (H&E) stains. Diagnosis is usually much easier using Giemsa-stained touch preparations.
Regardless of the method of preparation, identification often requires an experienced pathologist and lengthy searches using high magnification, particularly when organisms are sparse. Giemsa, Brown-Hopps, Gram, or Leishman stains are all used to enhance Leishmania organisms on touch preparations, tissue aspiration, or biopsy samples.
The parasite consists of a nucleus and a kinetoplast surrounded by a cell wall. Visualization of all 3 features (ie, nucleus, cell membrane, and kinetoplast) is required to make a diagnosis based on microscopy findings (see the images below).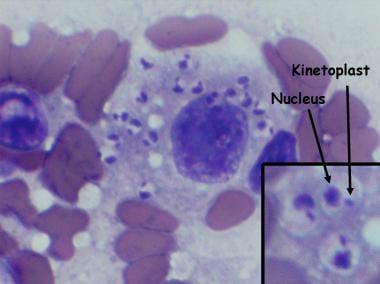 Amastigotes in a macrophage at 1000× magnification. Inset shows the cell membrane and points out the nucleus and kinetoplast, which are required to confirm that the inclusion seen in a macrophage is indeed an amastigote.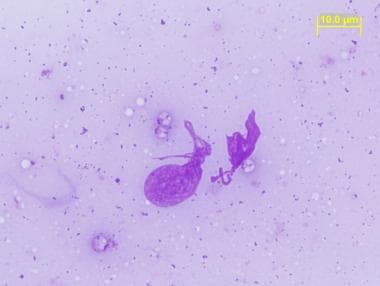 Free amastigotes near a disrupted macrophage. On touch preparations like this (Giemsa stain, original magnification × 1000), the amastigotes are easier to identify than on other preparations. These stains clearly demonstrate the cell membrane, nucleus, and kinetoplast; all 3 are required for definitive diagnosis.
The diagnostic sensitivity of microscopic identification of leishmanial amastigotes is typically 75-85%, but it may vary widely, depending on the size of the inoculum, the clinician's experience in sampling a proper area, the experience of the laboratory personnel in making smears or making tissue sections, and the observer's experience in finding the parasite.
Most Leishmania experts believe the ideal way to microscopically identify the parasite is with direct touch preparations from the lesion or biopsy tissue stained with Giemsa rather than with routine tissue sections.
---
Did this answer your question?
Additional feedback? (Optional)
Thank you for your feedback!