Answer
Patients with visceral leishmaniasis appear thin and cachetic with abdominal distention and protuberance due to massive hepatosplenomegaly (secondary to compensatory production of phagocytic blood cells) (see the image below). The liver and spleen are usually soft and easily palpated in acute disease, with splenic extension to well below the costal margin, and the patient may experience intermittent abdominal distress. Jaundice with mildly elevated enzyme levels is rarely seen and is considered a bad prognostic sign.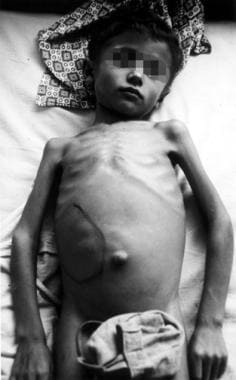 Visceral leishmaniasis. Courtesy of Kenneth F. Wagner, MD.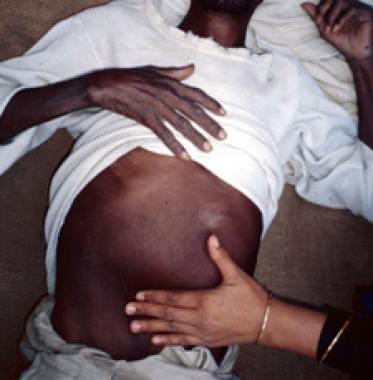 Marked splenomegaly (enlargement/swelling of the spleen) in a patient in lowland Nepal who has visceral leishmaniasis. (Credit: C. Bern, CDC) Source: Centers for Disease Control and Prevention. Parasites home: leishmaniasis. Resources for health professionals: http://www.cdc.gov/parasites/leishmaniasis/health_professionals/.
Epistaxis and petechiae and ecchymosis from severe thrombocytopenia may occur. Anemia is normochromic and normocytic and caused by various factors, including replacement of marrow by the parasites, splenic sequestration, hemorrhage, hemodilution, and hemolysis. Leukopenia is also observed and may contribute to secondary infections. Thrombocytopenia contributes to the hemorrhagic tendency observed in some cases.
Lymphadenopathy is observed in the African and Chinese forms but is rarely observed in the Indian form. Pedal edema is more common in children. Hair changes, such as alopecia and eyelash elongation, may be present. As the disease progresses, characteristic patchy darkening of the face and trunk has been described and may also affect the hands and feet.
Skin lesions that contain parasites and appear as diffuse, warty, nonulcerative lesions may occur in visceral leishmaniasis, especially in Africa. Although uncommon, xerosis may occur. Complications of visceral leishmaniasis include amyloidosis, glomerulonephritis, and cirrhosis.
In patients with human immunodeficiency virus (HIV) and visceral leishmaniasis coinfection, other atypical findings include gastrointestinal and respiratory involvement. Patients have presented with gastrointestinal ulcerations, masses, pleural effusions, and odynophagia. Spread outside of the reticuloendothelial system appears more common.
---
Did this answer your question?
Additional feedback? (Optional)
Thank you for your feedback!