Answer
Examination reveals the following features:
Excessive tissue obstructing the nares, septal granulation, and perforation; nose cartilage may be involved, giving rise to external changes known as parrot's beak or camel's nose

Possible presence of granulation, erosion, and ulceration of the palate, uvula, lips, pharynx, and larynx, with sparing of the bony structures; hoarseness may be a sign of laryngeal involvement

Gingivitis, periodontitis

Localized lymphadenopathy

Optical and genital mucosal involvement in severe cases
Death occurs from suffocation secondary to airway obstruction, respiratory infection, and aspiration pneumonia. See the following image.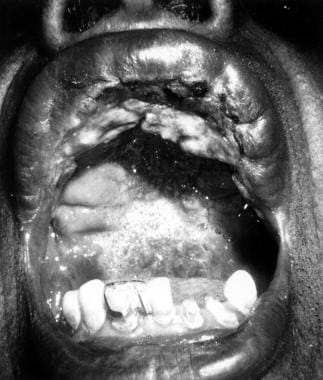 Mucocutaneous leishmaniasis. Courtesy of Kenneth F. Wagner, MD.
---
Did this answer your question?
Additional feedback? (Optional)
Thank you for your feedback!