Answer
The presentation of cutaneous disease varies depending on the stage of disease, although it mainly occurs in 2 forms, (1) an oriental sore caused by L tropica and (2) American cutaneous leishmaniasis caused by L brasiliensis. Lesions are usually found in exposed areas (eg, face, arms, legs). The skin lesion begins as a nontender, firm, red papule several centimeters in size at the site of the sandfly bite. In time, the lesion becomes darker, widens with central ulceration, serous crusting, and granuloma formation. The border often has a raised erythematous rim known as the volcano sign. See the images below.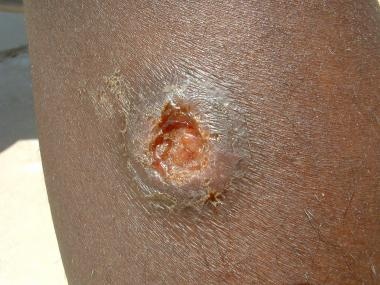 Classic Leishmania major lesion from a case in Iraq shows a volcanic appearance with rolled edges.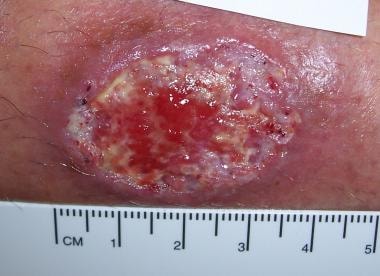 Active cutaneous leishmaniasis lesion with likely secondary infection in a soldier.
The lesions may be moist or open with seropurulent exudate, or the ulcers may be dry with a crusted scab and become fibrotic or hyperkeratotic with healing (after about 3-6 mo, leaving a raised border) (see the following image).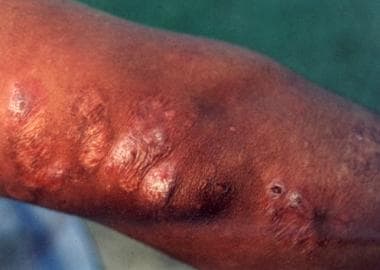 Healed cutaneous leishmaniasis lesions. Photo courtesy of Robert Norris, MD, Stanford University Medical Center.
Urban cutaneous leishmaniasis, caused by a subspecies of L tropica, presents as a dry cutaneous ulcer on the face and has an urban distribution. The incubation period is approximately 2 months. It is common in Western India, North Africa, the Mediterranean region, and Middle East. A similar disease in Mexico, Honduras, and Guatemala is known as the bay sore or chiclero ulcer. It is a chronic lesion that occurs at the site of a sand fly bite.
Rural cutaneous leishmaniasis is caused by L tropica and has a rural distribution. Multiple moist cutaneous lesions appear on the extremities and are associated with marked local subcutaneous infiltration and regional lymphadenitis. Both lesions are common in Central Asia.
Other findings of cutaneous disease include eczematous, psoriasiform, varicelliform, and verrucous lesions. The area surrounding the primary lesion may exhibit lymphangitic spread with palpable cords and subcutaneous nodules. This is common in New World lesions caused by L (Viannia) braziliensis infections.
Regional adenopathy, subcutaneous nodules, and satellite lesions may be present. The lesions are usually painless and without pruritus. A generalized inflammatory reaction to migrating parasites may be present in the skin surrounding the sore. Overlying bacterial infection may complicate the natural history. Healing occurs over months to years, leaving a characteristic retracted hypopigmented scar. Untreated sores can leave depigmented retracted scars. Thus, although this form is often self-healing, it can create serious disability and permanent scars. See the images below.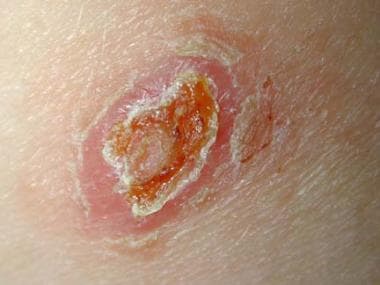 Old World localized cutaneous leishmaniasis located on the trunk of a soldier stationed in Kuwait. This lesion was a 3-cm by 4-cm nontender ulceration that developed over the course of 6 months at the site of a sandfly bite. The patient reported seeing several rats around his encampment.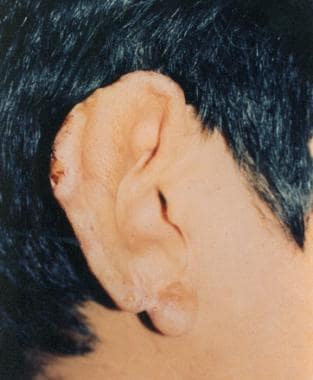 Cutaneous leishmaniasis lesions. Photo courtesy of Robert Norris, MD, Stanford University Medical Center.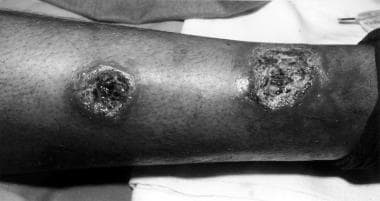 Cutaneous leishmaniasis with sporotrichotic spread.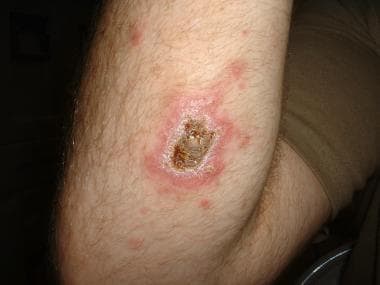 Atypical appearance of Leishmania major lesion with local spread beyond the borders of the primary lesion. Many of the lesions in cases from Iraq show an atypical appearance.
---
Did this answer your question?
Additional feedback? (Optional)
Thank you for your feedback!