Answer
Mucocutaneous disease, also called espundia in South America, usually develop by metastasis from disseminated protozoa rather than by local spread. This condition is most commonly caused by New World species, although Old World L aethiopica has also been reported to cause this syndrome. Secondary infection plays a prominent role in the size and persistence of ulcers.
Infection by L (Viannia) braziliensis may lead to mucosal involvement in up to 10% of infections, depending on the region in which it was acquired. The incubation period is from 1 to 3 months. The initial infection is characterized by a persistent cutaneous lesion that eventually heals, although as many as 30% of patients report no prior evidence of leishmaniasis.
Ulcer progression is slow and steady. Several years later, oral and respiratory mucosal involvement occurs, causing inflammation and mutilation of the nose, mouth, oropharynx, and trachea (see the following image), resulting in symptoms of nasal obstruction and bleeding. These can become sites of infection, sometimes leading to sepsis. Cases in which the time between the primary lesion and the appearance of mucosal involvement is up to 2 decades have been reported.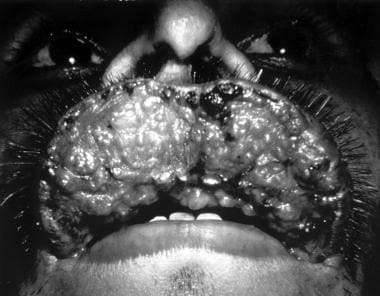 Mucocutaneous leishmaniasis. Courtesy of Kenneth F. Wagner, MD.
Progressive mucocutaneous disease is difficult to treat and often recurs. With prolonged infection, death occurs from respiratory compromise and malnutrition. Mucocutaneous leishmaniasis may arise after inadequate treatment of certain Leishmania species.
Children are rarely affected.
---
Did this answer your question?
Additional feedback? (Optional)
Thank you for your feedback!