Answer
Post-kala-azar dermal leishmaniasis follows the treatment of visceral leishmaniasis and has predominantly been described in Africa (about 2% of cases) and India (about 10% of cases).
The Indian variant occurs in patients 1-2 years and as long as 20 years after recovery from visceral leishmaniasis. This condition is characterized by multiple, hypopigmented, erythematous macules. Over time, these macules can transform into large nontender plaques and nodules that involve the face and trunk (see the image below). The disease resembles lepromatous leprosy and requires intensive therapy. The African variant occurs shortly after treatment of visceral leishmaniasis and is characterized by an erythematous papular rash on the face, buttocks, and extremities. These lesions spontaneously resolve over the course of several months.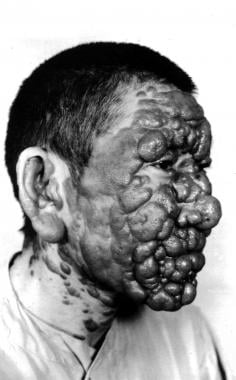 Post–kala-azar dermal leishmaniasis. Courtesy of R. E. Kuntz and R. H. Watten, Naval Medical Research Unit, Taipei, Taiwan.
In Sudan, patients often present with a facial rash consisting of small papules resembling measles that spreads to involve other parts of the body. This syndrome may heal spontaneously, but relapse is common. Established disease is generally difficult to treat.
Post–kala-azar dermal leishmaniasis that is resistant to antimonial agents has been reported, with an incidence rate of 1 in 700 cases.
---
Did this answer your question?
Additional feedback? (Optional)
Thank you for your feedback!