Answer
Diffuse cutaneous disease develops in an anergic host with poor immune response. This condition is associated with a deficient cell-mediated immunity that enables the parasite to disseminate in the subcutaneous tissues and has been reported in patients with human immunodeficiency virus (HIV) infection.
Infection is characterized by a primary lesion, which slowly spreads to involve multiple areas of the skin (face, ears, extremities, buttocks) until the whole body is affected. Plaques, ulcers, and nodules may form over the entire body, resembling lepromatous leprosy (see the image below). However, no neurologic or systemic invasion is involved; as a result, although the lesions are neither destructive nor erosive, they are disfiguring. The infections are chronic and may recur after treatment.
Although diffuse disease is more common with New World species in Central and South America, Old World L aethiopica may progress to diffuse disease in East Africa.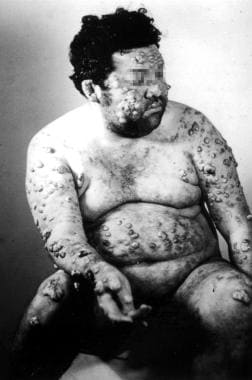 Diffuse (disseminated) cutaneous leishmaniasis. Courtesy of Jacinto Convit, National Institute of Dermatology in Caracas, Venezuela.
---
Did this answer your question?
Additional feedback? (Optional)
Thank you for your feedback!