Answer
Both New World and Old World species cause localized cutaneous leishmaniasis. New World disease usually presents with a solitary nodule, whereas Old World disease is associated with multiple lesions. Systemic symptoms are absent. Wound progression occurs over time and may exhibit localized lymphangitic spread. See the images below.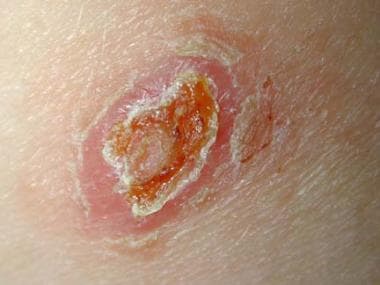 Old World localized cutaneous leishmaniasis located on the trunk of a soldier stationed in Kuwait. This lesion was a 3-cm by 4-cm nontender ulceration that developed over the course of 6 months at the site of a sandfly bite. The patient reported seeing several rats around his encampment.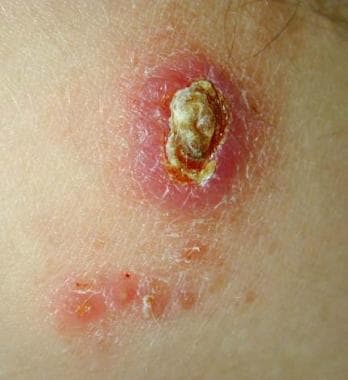 Old World cutaneous leishmaniasis located on the right arm of the same soldier stationed in Kuwait. This 2-cm by 3-cm lesion was located at the exposed area where the sleeve ended. Note the satellite lesions.
The lesions are usually without pain or pruritus, although secondary bacterial infection may complicate the wound (see the following image). Healing may occur spontaneously over 2-12 months and is followed by scarring and changes in pigmentation. New World disease may progress to mucocutaneous leishmaniasis.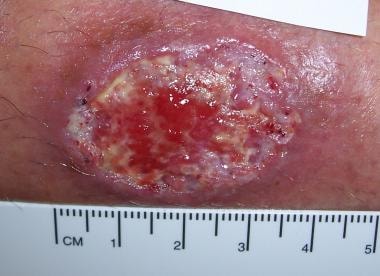 Active cutaneous leishmaniasis lesion with likely secondary infection in a soldier.
---
Did this answer your question?
Additional feedback? (Optional)
Thank you for your feedback!