Answer
Poverty and malnutrition play a major role in the increased susceptibility to leishmaniasis. Extracting timber, mining, building dams, widening areas under cultivation, creating new irrigation schemes, expanding road construction in primary forests such as the Amazon, continuing widespread migration from rural to urban areas, and continuing fast urbanization worldwide are among the primary causes for increased exposure to the sandfly. (See the following images.)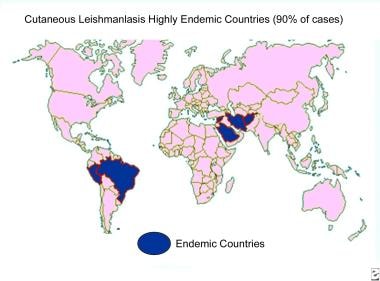 Distribution map of cutaneous leishmaniasis.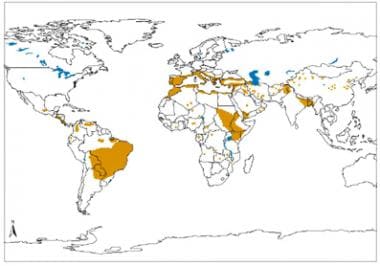 Geographical distribution of visceral leishmaniasis in the Old and New world. Source: World Health Organization, Department of Control of Neglected Tropical Diseases, Innovative and Intensified Disease Management (WHO/NTD/IDM) Human Immunodeficiency Virus/Acquired Immunodeficiency Syndrome (HIV/AIDS), Tuberculosis and Malaria (HTM) WHO, October 2010: http://www.who.int/leishmaniasis/leishmaniasis_maps/en/.
Another risk factor is the movement of susceptible populations into endemic areas, including large-scale migration of populations for economic reasons. In the city of Kabul, Afghanistan, which has a population of less than 2 million, an estimated 270,000 cases of cutaneous leishmaniasis occurred in 1996. The resurgence of visceral leishmaniasis has occurred because of deficiencies in the control of the vector (sandfly), absence of a vaccine, and lack of access to medical treatment due to cost and increasing drug resistance to first-line treatment.
Coexistence of leishmaniasis with human immunodeficiency virus (HIV) infection is a serious concern. Leishmaniasis is spreading in several areas of the world because of the rapid dissemination of the acquired immunodeficiency syndrome (AIDS) epidemic. The immune deficiency has led to increased susceptibility to infections, including leishmaniasis: Persons with AIDS are at 100-1000 times greater risk of developing visceral leishmaniasis in certain areas. Thus far, co-infections have been reported in 33 countries worldwide (see below).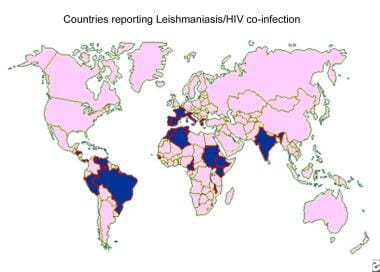 Distribution map of human immunodeficiency virus (HIV) and leishmaniasis coinfection.
---
Did this answer your question?
Additional feedback? (Optional)
Thank you for your feedback!