Answer
In leishmaniasis, the obligatory intracellular protozoa are transmitted to mammals via the bite of the tiny 2- to 3-mm female sandfly of the genus Phlebotomus in the Old World (Eastern Hemisphere) and Lutzomyia in the New World (Western Hemisphere) (see the following image).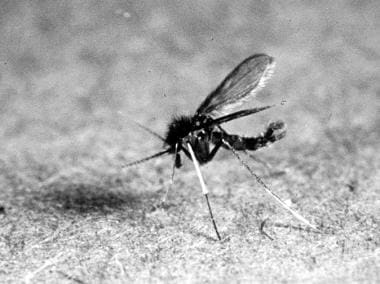 Sandfly. Courtesy of Kenneth F. Wagner, MD.
The bite of one infected sandfly is sufficient to cause the disease, because a sandfly can egest more than 1000 parasites per bite. Traditionally divided between Old World and New World parasites, more than 20 pathogenic species of Leishmania have been identified [1] ; about 30 of the 500 known phlebotomine sandfly species have been positively identified as vectors of the disease. [2]
The sandfly is usually one half to one third the size of a mosquito (see the image below). Leishmaniasis infections are considered zoonotic diseases, because for most species of Leishmania, an animal reservoir is required for endemic conditions to persist. Humans are generally considered incidental hosts. Infections in wild animals are usually not pathogenic, with the exception of dogs, which may be severely affected.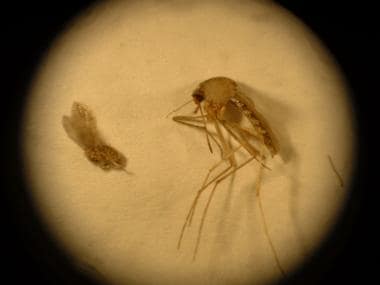 Comparison of a sandfly (left) and a mosquito (right). The sandfly's small size affects the efficacy of bed nets when used without permethrin treatment.
---
Did this answer your question?
Additional feedback? (Optional)
Thank you for your feedback!