Answer
Leishmaniasis is a disease caused by an intracellular protozoan parasite (genus Leishmania) transmitted by the bite of a female phlebotomine sandfly. The clinical spectrum of leishmaniasis ranges from a self-resolving cutaneous ulcer to a mutilating mucocutaneous disease and even to a lethal systemic illness. Therapy has long been a challenge in the more severe forms of the disease, and it is made more difficult by the emergence of drug resistance. With the exception of Australia, the Pacific Islands, and Antarctica, the parasites have been identified throughout large portions of the world. See the image below.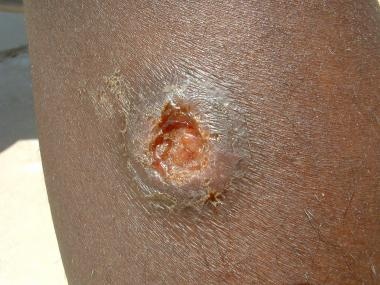 Classic Leishmania major lesion from a case in Iraq shows a volcanic appearance with rolled edges.
---
Did this answer your question?
Additional feedback? (Optional)
Thank you for your feedback!