Answer
Patients have a history of repetitive pinching motion of the thumb and fingers (eg, assembly line work, driving in screws, weeding). Pain in the radial aspect of the wrist becomes worse with activity and better with rest. Onset of pain is typically gradual in nature, with no history of acute trauma. This condition is most common in middle-aged women. The affected area is shown in the image below.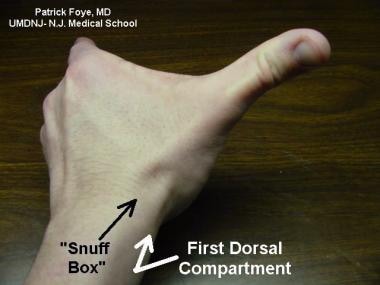 The first dorsal compartment of the wrist includes the tendon sheath that encloses the abductor pollicis longus and the extensor pollicis brevis tendons at the lateral border of the anatomic snuffbox.
---
Did this answer your question?
Additional feedback? (Optional)
Thank you for your feedback!