Answer
Tenosynovitis is inflammation of a tendon and its sheath (see the image below). Most acute cases of flexor tenosynovitis (FT)—which involves disruption of normal flexor tendon function in the hand—result from infection. However, FT also can develop secondary to acute or chronic inflammation from a noninfectious cause, such as diabetes, overuse, or arthritis.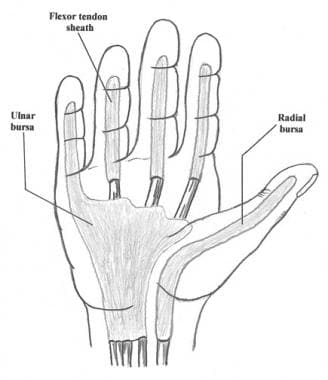 Flexor tendon sheaths and radial and ulnar bursae.
Cases of infectious FT that present early and have no comorbidities have a good prognosis, but patients with fulminant infection, chronic infection, or an impaired immune status have increased risk of long-term complications and impairment.
---
Did this answer your question?
Additional feedback? (Optional)
Thank you for your feedback!