Answer
Following the establishment of latency in the corresponding sensory nerve ganglion cells, HSV can cause recurrent infection that can be subclinical (manifesting as viral excretion without lesions) or overt (manifesting as mucosal or cutaneous lesions with viral excretion).
Oral recurrences are often triggered by recognizable stimuli such as pyrexia (fever blisters and cold sores), stress, or sunburn. Genital recurrences are more likely to be linked to stress rather than to pyrexia. Females may relate a relationship to the menstrual cycle.
Localized burning or paraesthesias may precede recurrent lesions. Unlike primary infection, constitutional symptoms are minimal in most cases.
Recurrences last 3-7 days and can occur numerous times per year or once or twice in a lifetime. Overall, the number of yearly recurrences tends to decrease over time. [16]
Although recurrent HSV infections may last much longer (>30 d) in immunocompromised hosts, such as individuals with AIDS, frequent recurrences are not necessarily a sign of an altered immune system.
Because recurrences can be clinically unrecognizable, transmission to susceptible individuals can occur in the absence of overt lesions.
Vesicles occurring in a sacral dermatomal distribution (zosteriform) can occur in recurrent genital HSV disease and be confused with herpes zoster. A history of similar recurrences should alert the clinician to this possibility.
Sacral HSV infection recurrences also may present with signs and symptoms of meningeal inflammation; and, in fact, a picture consistent with aseptic meningitis can be found upon examination of the cerebrospinal fluid (CSF). [17]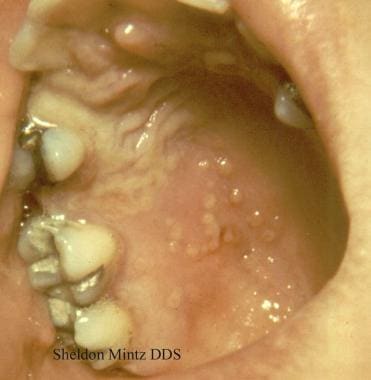 Herpes simplex virus type 1. Recurrent herpes is occasionally observed intraorally. Inside the oral cavity, recurrent herpes typically affects only keratinized tissues, such as the gingiva or the hard palate. Vesicles often break quickly, so the clinician may observe small clustered ulcers. Courtesy of Sheldon Mintz, DDS.
---
Did this answer your question?
Additional feedback? (Optional)
Thank you for your feedback!