Answer
The term herpes is derived from the Greek word "to creep or crawl" and dates back to early Greek civilization, approximately 2000 years ago, in reference to the spreading nature of herpetic skin lesions.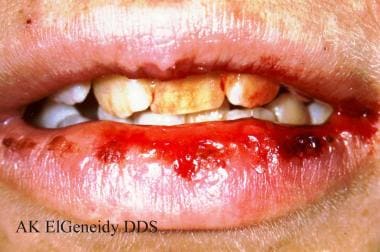 Herpes simplex virus type 1. Primary herpes can affect the lips, and the ruptured vesicles may appear as bleeding of the lips. Courtesy of A.K. ElGeneidy, DDS.
See Herpes Simplex Viruses: Test Your Knowledge, a Critical Images slideshow, for more information on clinical, histologic, and radiographic imaging findings in HSV-1 and HSV-2.
Also, see the 20 Signs of Sexually Transmitted Infections and Clues in the Oral Cavity: Are You Missing the Diagnosis? slideshows to help make an accurate diagnosis.
---
Did this answer your question?
Additional feedback? (Optional)
Thank you for your feedback!