Answer
TTE (see the image below) has generally had a sensitivity of approximately 60% for identification of valvular lesions in patients with native valve endocarditis (NVE). However, sensitivity was as high as 82% in a recent series where advanced harmonic imaging and digital processing techniques were used. [73] TTE has a sensitivity of only 20% in patients with PVE.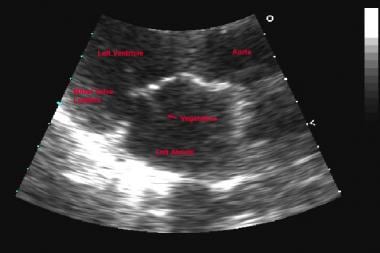 This is a magnified portion of a parasternal long axis view from a transthoracic echocardiogram. There is a small curvilinear vegetation on the mitral valve as indicated. The patient presented with a headache and fever, and CT scan of the brain revealed an occipital hemorrhage. The patient had a history of intravenous drug use and multiple blood cultures grew Staphylococcus aureus.
---
Did this answer your question?
Additional feedback? (Optional)
Thank you for your feedback!