Answer
Infective endocarditis (IE) is defined as an infection of the endocardial surface of the heart (see the image below), which may include one or more heart valves, the mural endocardium, or a septal defect. Its intracardiac effects include severe valvular insufficiency, which may lead to intractable congestive heart failure and myocardial abscesses. If left untreated, IE is almost inevitably fatal.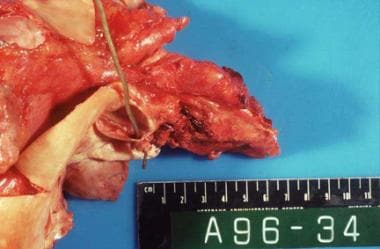 Acute bacterial endocarditis caused by Staphylococcus aureus with perforation of the aortic valve and aortic valve vegetations. Courtesy of Janet Jones, MD, Laboratory Service, Wichita Veterans Administration Medical Center.
---
Did this answer your question?
Additional feedback? (Optional)
Thank you for your feedback!