Answer
Cutaneous hypersensitivity reactions are common in primary coccidioidomycosis. More than 50% of affected children, and 25% of infected individuals overall, develop diffuse, evanescent, maculopapular rashes or urticaria that may progress to erythema nodosum or erythema multiforme after 3-21 days. Erythema multiforme is more common in children, but erythema nodosum is the classic presentation in an endemic area.
Erythema nodosum presents as tender, erythematous nodules, 1-2 cm in diameter, on the anterior lower extremities (see the image below), although they may develop virtually anywhere. Erythema multiforme consists of relatively symmetric erythematous, expanding macules or papules that evolve into classic iris or target lesions with bright-red borders. Central vesicle formation is common.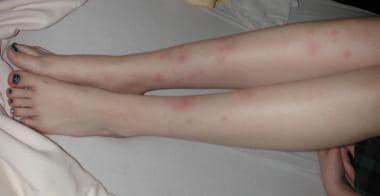 Erythema nodosum can be observed in coccidioidomycosis, tuberculosis, histoplasmosis, drug reactions, and streptococcal infections.
Ocular hypersensitivity reactions frequently accompany erythema nodosum. These include phlyctenular conjunctivitis, episcleritis, scleritis, and keratoconjunctivitis.
These cutaneous hypersensitivity reactions are a favorable prognostic sign; they suggest a low risk of dissemination because they correlate with development of cell-mediated immunity. Erythema nodosum occurs less often in persons outside of endemic areas and occurs infrequently in blacks, Hispanics, and Filipinos. Among adults, women experience erythema nodosum much more frequently than men.
Cutaneous hypersensitivity reactions must be distinguished from cutaneous Coccidioides infection, in which the organism is present in the lesion. The skin eventually is involved in most types of disseminated disease. Cutaneous infection usually results from hematogenous seeding, but direct inoculation may occur, evidenced by lymphangitis.
Cutaneous coccidioidal infection has a variable appearance; papules, plaques, and verrucous lesions are the most common. The classic skin manifestation of coccidioidomycosis is a verrucous granuloma at the nasolabial fold. Other typical lesions include granulomatous papules, nodules, and plaques, especially on the head. These lesions can progress to subcutaneous involvement, sinus tracts, abscesses, and chronic ulcers (see the image below).
Abscess formation may be associated with underlying bone or organ involvement. Facial involvement is associated with a 10-fold increase in the probability of coccidioidal meningitis.
Disseminated infection can also result in ulceration and fistulas from underlying infection.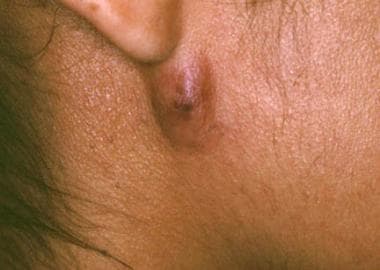 Soft tissue abscess due to cocci.
---
Did this answer your question?
Additional feedback? (Optional)
Thank you for your feedback!