Answer
Coccidioides is a dimorphic fungus, meaning that it assumes 2 different forms, yeast or mold, depending on the environment. In soil, Coccidioides grows as a mold (mycelium) with branching septate hyphae. During the rainy season, the mycelia grow rapidly, but they are also the least infectious form of the organism. [6]
As the soil becomes drier, in late summer and early fall, the hyphae develop into arthrospores. Arthrospores measure 3-5 µm and are extremely hardy, withstanding extreme heat, desiccation, and changes in soil salinity and remaining viable in the soil for months to years. When the soil is disturbed by wind or excavation, arthrospores readily disarticulate into single arthroconidia (rectangular spores measuring 8-30 μm in diameter) and become airborne. [7] (See the image below.) The arthroconidia are the infectious particles of coccidioidomycosis.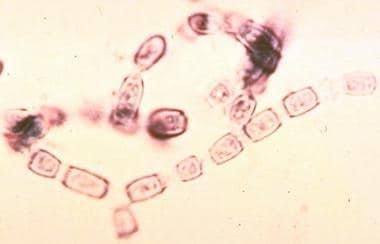 Arthroconidia become airborne and infect the human host to begin the parasitic phase of its life cycle. The arthroconidia develop into spherules containing endospores, which propagate infection in human tissues. Courtesy of Thomas Matthew.
Coccidioides arthroconidia are extremely infectious; a single C immitis arthroconidium may be sufficient to produce a respiratory infection. However, exposure to high spore burdens increases the likelihood of more severe disease in otherwise healthy persons.
If inhaled by animals or humans, the arthroconidia can reach the pulmonary alveoli. The size of the arthroconidium allows it to be deposited in the terminal bronchiole but probably does not allow it to reach the alveolar space by means of direct inhalation.
Once in the alveoli, Coccidioides enters the yeast stage of its life cycle. The arthroconidium sheds its outer coating, swells, and becomes a spherule—a round, thick-walled multinucleate structure that contains hundreds to thousands of uninucleate endospores. Rupture of the spherule leads to release of the contained endospores, each of which matures into spherules, repeating the cycle.
Rarely, direct inoculation of C immitis (eg, from contaminated penetrating objects) causes primary cutaneous coccidioidomycosis with lymphatic extension to the regional lymph nodes; these cases resolve without treatment.
Domesticated, zoo, and wild animals can also be infected with Coccidioides species. In 2009, a report alleged transmission of coccidioidomycosis to a human by a cat bite. [11] This occurred in a veterinary assistant who had been bitten on the hand by a cat that was later diagnosed with disseminated disease.
Case reports have documented rare instances of coccidioidomycosis transmitted through other modes. These have included donated organs and sexual transmission.
---
Did this answer your question?
Additional feedback? (Optional)
Thank you for your feedback!