Answer
Cryptosporidium species do not multiply outside the host. [1, 2, 3] Infection is initiated by ingestion of oocysts, which are activated in the stomach and upper intestines to release 4 infective sporozoites (see the first image below). These motile sporozoites bind to the receptors on the surface of the intestinal epithelial cells (see the second image below) and are ingested into a parasitophorous vacuole near the surface of the epithelial cell, separated from the cytoplasm by a dense layer. Cryptosporidium oocysts are round and measure 4.2-5.4 µm in diameter.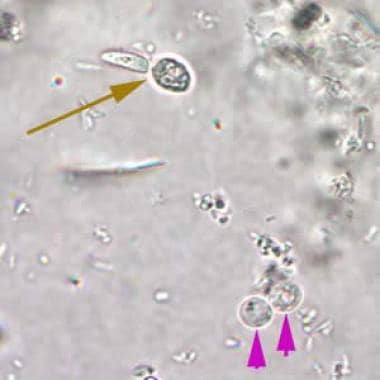 Cryptosporidium species oocysts are rounded and measure 4.2-5.4 µm in diameter. Sporozoites are sometimes visible inside the oocysts, indicating that sporulation has occurred on wet mount.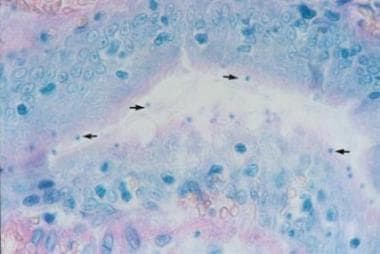 Hematoxylin and eosin stain of intestinal epithelium. The blue dots (arrows) represent intracellular Cryptosporidium organisms along the surface of the epithelial cells. Image courtesy of Carlos Abramowsky, MD, Professor of Pediatrics and Pathology, Emory University School of Medicine.
Once inside the epithelial cell, the parasites enlarge, divide, and reinvade other cells in a series of sexual and asexual multiplication steps, eventually leading to the production of oocysts. Two morphologic forms of the oocysts have been described: thin-walled oocysts (asexual stage) excyst within the same host (causing self-infection), whereas the thick-walled oocysts (sexual stage) are shed into the environment. Oocyst shedding can continue for weeks after the host experiences clinical improvement.
---
Did this answer your question?
Additional feedback? (Optional)
Thank you for your feedback!