Answer
Examine eye movements for evident oculomotor abnormalities, especially nystagmus. Spontaneous, gaze-evoked, post head shake, and post mastoid vibration are important to elicit, observe, and document. Differentiating peripheral from central nystagmus is key. Central nystagmus is a purely horizontal or vertical and not suppressed by visual fixation. Peripheral nystagmus is usually rotatory and most evident with removing visual fixation (eg, by using Frenzel goggles or infrared video nystagmography; see the images below). It also obeys the Alexander law; that is, the intensity of nystagmus increases with gaze in the direction of the fast phase. Post head shake and mastoid vibration nystagmus is usually a reflection of uncompensated unilateral vestibular hypofunction.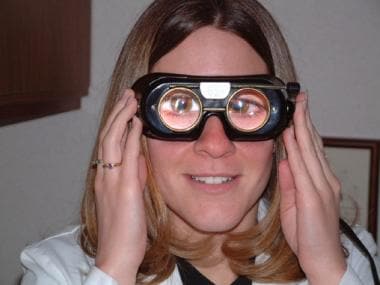 Example of Frenzel goggles used for evaluation in neuro-otology clinic.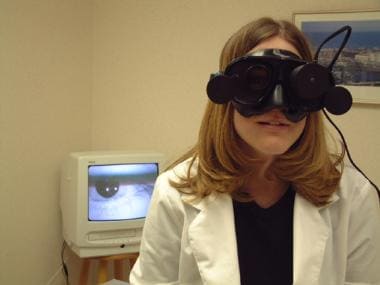 Typical example of computer and headgear equipment used in neuro-otology clinic.
---
Did this answer your question?
Additional feedback? (Optional)
Thank you for your feedback!