Answer
The flowchart below depicts the management of risk for congenital Chagas disease.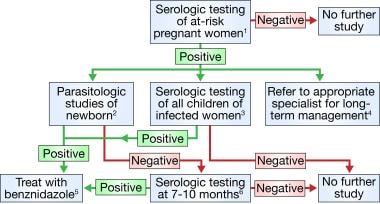 Footnote 1. Mexico, as well as all nations of Central and South America, are endemic for Chagas disease. Chagas disease is not endemic in any of the Caribbean Islands. Women who were born in Chagas endemic countries or who have resided therein for a substantial period are at geographic risk for having Chagas disease. In addition, women who are not themselves at geographic risk but whose mothers are at such a risk and are not known to be seronegative are in turn considered to be at risk for Chagas disease. Footnote 2. The two approaches useful in this regard are microscopic examination of anticoagulated blood and polymerase chain reaction (PCR). Serologic testing of newborns is not useful because assays for specific immunoglobulin G (IgG) will yield a positive result, reflecting the mother's chronic infection, and because immunoglobulin M (IgM) assays lack acceptable levels of sensitivity and specificity. Footnote 3. All children born to at risk women should be tested serologically since several studies indicate that the rate of congenital Chagas disease in babies born to infected mothers is 2%-10%. Footnote 4. The latter should include periodic monitoring for signs and symptoms of chronic cardiac and gastrointestinal Chagas disease followed by appropriate interventions, when indicated. The usefulness of specific drug treatment in adults with chronic Trypanosoma cruzi infections has not been clearly demonstrated and is a matter of ongoing debate. Footnote 5. The parasitologic cure rate in babies with congenital Chagas disease approaches 100% when a full course of treatment is given during the first year of life. Footnote 6. The sensitivities of microscopic examination of anticoagulated blood and PCR are less than 100%. Thus, the occasional baby who tests negative in these approaches immediately after birth may actually be infected with T cruzi. Serologic testing for specific IgG should be delayed until maternal IgG has disappeared.
---
Did this answer your question?
Additional feedback? (Optional)
Thank you for your feedback!