Answer
In most instances of acute T cruzi infection, a specific diagnosis is not made because of the nonspecific nature of the signs and symptoms and because most cases occur in poor people who have limited access to medical care.
Acute Chagas disease carries a mortality rate of less than 5%. However, even this is likely a high estimate, since acute Chagas disease is rarely diagnosed specifically; thus, the denominator for the calculation of the fatality rate is not known. As noted above, death is typically caused by myocarditis [52, 113] and, less commonly, by meningoencephalitis. [114]
In the vast majority of persons with acute Chagas disease, the manifestations resolve spontaneously within 4-8 weeks. This is followed by the chronic indeterminate (asymptomatic) phase of the disease (see image below).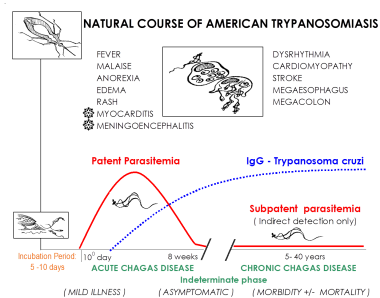 Natural course of American trypanosomiasis. Courtesy of Dr. Patricia Paredes, Guadalajara, Jal., Mexico.
Indeterminate phase
By definition, the indeterminate phase of Chagas disease does not involve symptoms.
Most adults with T cruzi infection are unaware of their parasitosis, and a history consistent with acute Chagas disease from years prior is rarely given.
Persons who are diagnosed with indeterminate Chagas disease are typically identified through blood-donor screening or pre-employment serologic testing.
---
Did this answer your question?
Additional feedback? (Optional)
Thank you for your feedback!