Answer
Triatomines, which transmit T cruzi, belong to the family Reduviidae in the order Hemiptera. Reduviidae has 22 subfamilies, including the Triatominae. [12, 13, 14] Although the vectors of T cruzi are occasionally referred to as reduviids, this term is not appropriate since the vast majority of the species in the family Reduviidae are phytophagous or insectivorous and do not transmit the parasite.
All triatomine species are able to transmit T cruzi to humans, but only a handful become domiciliary to any great extent and are important as T cruzi vectors. Many more triatomine species are involved in the widespread sylvatic cycles. Triatomines have 5 nymphal stages (instars), all of which can harbor and transmit T cruzi.
The three vector species most important in the transmission of T cruzi to humans include Triatoma infestans, Rhodnius prolixus (see image below), and Triatoma dimidiata. Historically, T infestans has been by far the most important, as it has been the primary vector in the sub-Amazonian endemic regions. Since the early 1990s, under the aegis of the Southern Cone Initiative (SCI), which is supported by the World Health Organization (WHO) and the Pan American Health Organization (PAHO), Chagas disease control programs in Argentina, Bolivia, Brazil, Chile, Paraguay, and Uruguay have focused on eliminating domiciliary T infestans.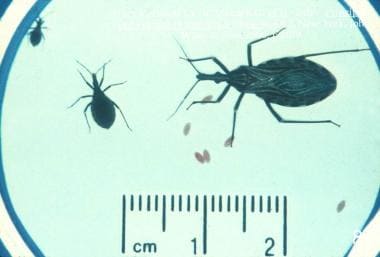 Rhodnius prolixus, a common vector of Trypanosoma cruzi. Eggs, first- and second-stage nymphs, and adult.
These efforts have been widely successful, so much so that Uruguay (1997), Chile (1991), and Brazil (2006) have been declared free of vector‑borne transmission. [15, 16, 17, 18]
Major progress in vector control has also been achieved in Argentina, Paraguay, and Bolivia. Programs similar to the SCI have been implemented in the Andean nations and Central America, where R prolixus is typically found. [19, 20] The range of T dimidiata is similar but also extends far into Mexico. Other domiciliary species occupy more restricted areas and play less-important roles in the transmission of T cruzi to humans. The sylvatic species can also colonize human dwellings and thus present a potential risk for transmission.
---
Did this answer your question?
Additional feedback? (Optional)
Thank you for your feedback!