Answer
Aspiration and analysis of bursal fluid should be done to rule out infectious or rheumatic causes; they may also be therapeutic. Bursal fluid should be drawn for monosodium urate crystal determination, cell count with differential, Gram stain, and culture. Physicians should be more inclined to perform bursal fluid aspiration in the most frequently infected bursae—namely, the olecranon (see the image below), prepatellar, and infrapatellar bursae.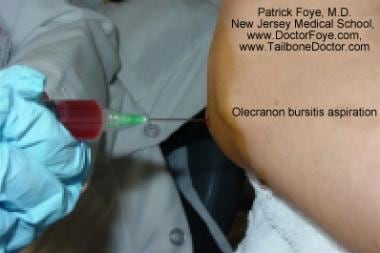 Olecranon bursitis: aspiration of hemorrhagic effusion. Image courtesy of UMDNJ-New Jersey Medical School, www.DoctorFoye.com, and www.TailboneDoctor.com.
Nonseptic bursitis has cell counts lower than 2000/µL, with a predominance of mononuclear cells. Septic bursitis may have cell counts exceeding 70,000/µL, with a predominance of polymorphonuclear leukocytes (PMNs). The WBC count in septic bursitis is typically lower than that in septic arthritis. A WBC count of 5000-20,000/µL or higher may be considered indicative of infection.
Gram stain and culture are performed to identify any pathogens. The accuracy of Gram staining varies considerably, with sensitivities between 15% and 100%. Therefore, fluid that has a high WBC count but is negative on Gram staining is still considered suspicious for infection.
Elevated protein level and reduced glucose level are associated with infection but are not sufficiently sensitive or specific to be used in isolation. Bursal fluid culture is the conclusive test for diagnosis. Culture in liquid medium has been shown to be superior to culture on solid medium. With chronic or recurrent bursitis, samples should be sent for acid-fast staining and cultured on special media for mycobacteria, Brucella, and algae.
Fluid should also be examined for crystals. Monosodium urate crystals are seen in gout; calcium pyrophosphate crystals are seen in pseudogout; cholesterol crystals are seen in rheumatoid chylous bursitis and in a variety of chronic effusions.
Arthrocentesis should be performed if joint involvement is suspected.
---
Did this answer your question?
Additional feedback? (Optional)
Thank you for your feedback!