Answer
The anserine bursa separates the insertions of the sartorius, gracilis, and semitendinosus tendons from the tibial plateau. It is so named because the edematous bursa, restrained by these three tendons, gives the appearance of a goose's foot (pes anserinus). See the image below.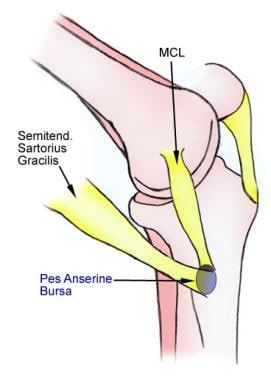 Location of anserine (pes anserinus) bursa on medial knee. MCL=medial collateral ligament.
An abnormal pull on any of the 3 tendons or an abnormal gait predisposes to repetitive friction and to bursitis. Patients with anserine bursitis are commonly obese older women with a history of osteoarthritis of the knees. An association has also been described between this bursitis and diabetes mellitus type 2. Other risk factors include long-distance running, valgus knee alignment, and excess external rotation of the lower leg.
Unlike prepatellar bursitis, anserine bursitis is almost never septic. The differential diagnosis includes medial collateral ligament strain and osteoarthritis of the medial compartment of the knee. It is helpful to ensure that the medial collateral ligament is intact by performing a valgus stress maneuver.
Tenderness is present on the medial aspect of the knee 5 cm below the joint margin at the site of the tibial tubercle. Neither swelling nor warmth is present. Pain radiates along the medial joint line to the inner thigh and calf. Pain is exacerbated with stair climbing and extremes of flexion or extension. Anserine bursitis may occur bilaterally.
---
Did this answer your question?
Additional feedback? (Optional)
Thank you for your feedback!