Answer
Trauma of the skin and surrounding tissues makes the olecranon a frequent location for infectious bursitis. The risk of septic bursitis increases in those who have a history of chronic disease. Because of the higher likelihood of infection, some physicians encourage aspiration and analysis of the bursa even when tenderness and erythema are minimal.
Chronic stress from repetitive forward-leaning positions with pressure on the elbows is seen in patients on long-term hemodialysis (so-called dialysis elbow), in patients with chronic obstructive lung disease, in students, and in those whose occupation involves laying down carpet. The term lunger elbow has been suggested to describe this affliction.
The most common nontraumatic cause of olecranon bursitis is gout, followed by pseudogout, rheumatoid arthritis, and uremia.
When inflamed, the bursa is evident as a fluctuant bulge posterior to the olecranon process (see the images below). Pain and tenderness over the bursa may be increased in extreme flexion as tension increases.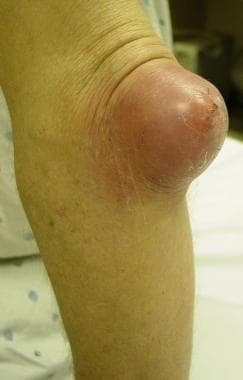 Acute infectious bursitis upon presentation to emergency department. Image courtesy of Christopher Kabrhel, MD.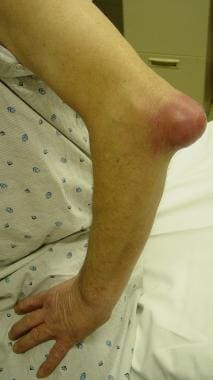 Infectious bursitis. Image courtesy of Christopher Kabrhel, MD.
---
Did this answer your question?
Additional feedback? (Optional)
Thank you for your feedback!