Answer
The term cellulitis is commonly used to indicate a nonnecrotizing inflammation of the skin and subcutaneous tissues, usually from acute infection (see the image below). Cellulitis usually follows a breach in the skin, although a portal of entry may not be obvious; the breach may involve microscopic skin changes or invasive qualities of certain bacteria.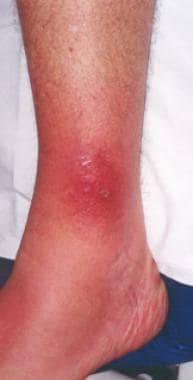 Patient with cellulitis of the left ankle. This cellulitis was caused by community-acquired methicillin-resistant Staphylococcus aureus (CA-MRSA). (Photo courtesy of Texas Dept. of Public Health.)
---
Did this answer your question?
Additional feedback? (Optional)
Thank you for your feedback!