Answer
One or more nodes draining the site of inoculation enlarge approximately 2 weeks (range 5-50 d) after contact with the kitten or cat. The overlying skin may be warm and erythematous, but only rarely is an associated cellulitis present. (See the image below.)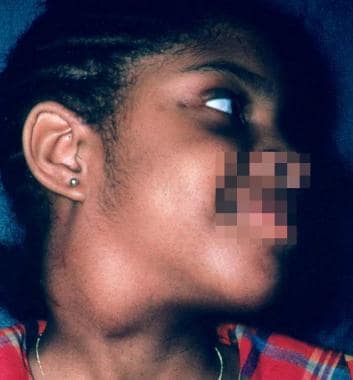 This 10-year-old child had contact with dogs, but not cats. The impressive lymphadenitis had been present for 5 weeks and was not tender. Pathologic examination of a biopsy specimen of the lymph node revealed nonspecific changes. She had a positive cat scratch disease skin test result and negative purified protein derivative skin test results. Treatment with cephalexin was administered with a good response. Complete resolution occurred in 4.5 months. Courtesy of Andrew Margileth, MD.
---
Did this answer your question?
Additional feedback? (Optional)
Thank you for your feedback!