Answer
In 1-3 weeks, the inoculum-site lesion evolves from a small, 2- to 5-mm reddish-brown macule or vesicle to a papule or pustule (see the images below). Often, it is mistaken for an insect bite. Lesions typically are nonpruritic and heal in days to months without scarring.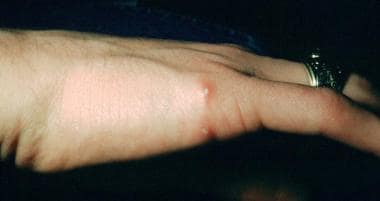 Papulopustular lesions of a primary inoculation site on the hand of a 16-year-old patient. These lesions had been present for approximately 3 weeks. A cat scratch antigen skin test was positive with 15-mm induration. No treatment was administered, and her condition resolved spontaneously in 2.5 months. Courtesy of Andrew Margileth, MD.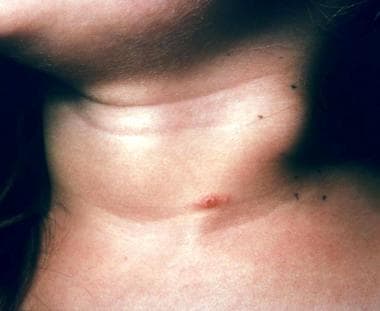 A crusted primary inoculation papule on the neck of a 4-year-old child. Note the adjacent lymphadenitis. This patient had contact with cats and had multiple scratches. Courtesy of Andrew Margileth, MD.
---
Did this answer your question?
Additional feedback? (Optional)
Thank you for your feedback!