Answer
Catscratch disease (CSD), also known as catscratch fever or subacute regional lymphadenitis, is a bacterial infection affecting lymph nodes that drain the sites of inoculation. Bartonella henselae, a gram-negative rod, is considered the principal etiologic agent. [1, 2] CSD is one of the most common causes of chronic lymphadenopathy in children and adolescents.
Patients with CSD usually have a history of sustaining a scratch or bite from a cat (typically a kitten). The initial symptom is formation of a papule at the inoculation site, followed by solitary or regional lymphadenopathy within 1-2 weeks (see the images below). In most patients, the disease resolves spontaneously within 2-4 months.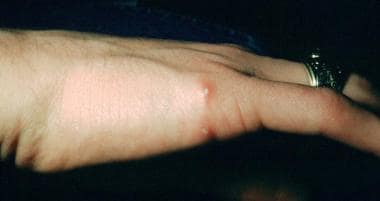 Papulopustular lesions of a primary inoculation site on the hand of a 16-year-old patient. These lesions had been present for approximately 3 weeks. A cat scratch antigen skin test was positive with 15-mm induration. No treatment was administered, and her condition resolved spontaneously in 2.5 months. Courtesy of Andrew Margileth, MD.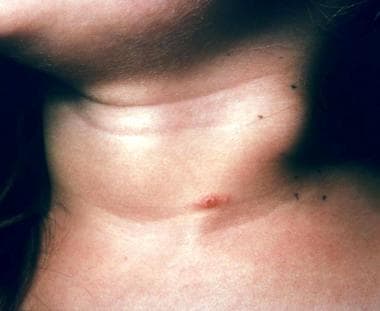 A crusted primary inoculation papule on the neck of a 4-year-old child. Note the adjacent lymphadenitis. This patient had contact with cats and had multiple scratches. Courtesy of Andrew Margileth, MD.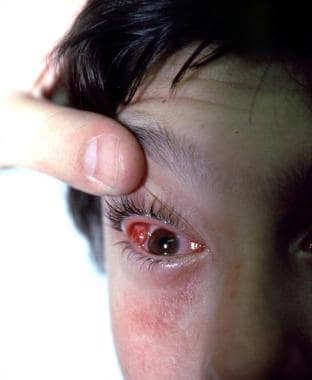 This 13-year-old girl developed fatigue and malaise after being licked and scratched by a cat. The typical conjunctival granuloma was accompanied by a parotid mass and intraparotid adenitis. No treatment was administered, and all her signs and symptoms resolved in 3 months. Courtesy of Andrew Margileth, MD.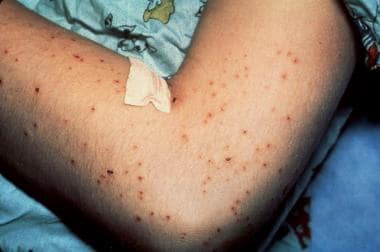 This 9-year-old boy developed cat scratch disease (CSD) encephalitis and a papular pruritic dermatitis after sustaining cat scratches and developing regional lymphadenitis. He was in a coma for 4 days, but experienced a complete and rapid recovery within 3 weeks. Biopsy of the skin rash revealed nonspecific changes. The CSD antigen skin test result was positive. Courtesy of Andrew Margileth, MD.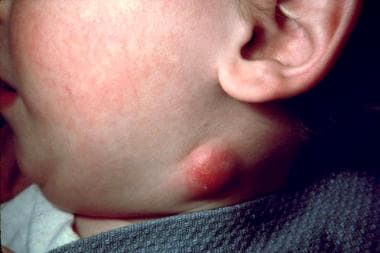 This 2.5-year-old boy was recovering from cat scratch disease acquired 10 months before when he developed this neck abscess over a period of 3 weeks. Biopsy revealed caseating granulomas; acid-fast bacillus and Warthin-Starry stain results were negative. Courtesy of Andrew Margileth, MD.
---
Did this answer your question?
Additional feedback? (Optional)
Thank you for your feedback!